Department of Commerce
---
The Congress of Gamers exclusive vendor slot for the summer session is still available. eMail us if your store is interested.
---

This will be the CoG's eighteenth consecutive No-Ship Math Trade. A Math Trade is a trade between many people at once, using an algorithm to decide who should give their game to whom. Because of the algorithm used, you will get a game you prefer over what you started with or, at worst, keep your original game. A "no-ship" math trade is simply a math trade between individuals who are able to deliver their games to each other in person, in this case, at Congress of Gamers. For additional details about Math Trades, go to the Wiki page.
List items you might be willing to trade at the math trade's web address, https://boardgamegeek.com/article/31947588 All games that successfully trade will be exchanged at the convention.
Anyone involved in the math trade will be responsible for delivering the games that successfully trade to the Carnation Room Stage area tables before 2 PM on Saturday. We'll sort the games by recipient and have them available for pick-up after 2:00 pm on Saturday. If your games aren't picked up by 5 pm, they will be temporarily moved to the CoG library, at the trader's risk. Forgetful traders can look for them there. Any games not picked up before the close of the con will be considered abandoned and donated to The Congress of Gamers.
---

We'll be running a super-easy Auction Store where you can sell your own games and get GREAT deals on new and used games from fellow gamers, all while supporting your local gaming community. There are no packing and shipping hassles for sellers. There are no shipping expenses and delivery risks for buyers, who can hold and see what they are buying. Past sales have had 800-1300 games for sale, and it's easily the most popular activity at the Congress of Gamers conventions. Sales are on Saturday only. Check it out!
---
---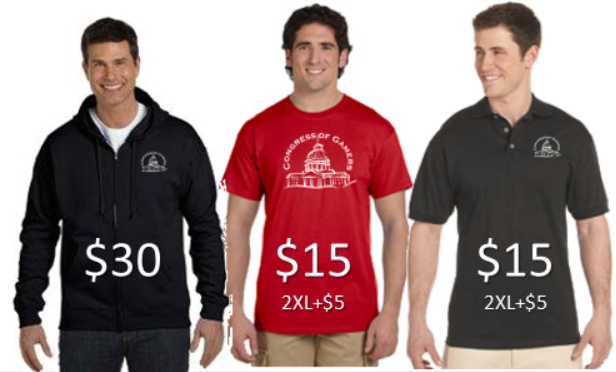 Get a Congress of Gamers souvenir shirt at the convention for $15 each ($20 for 2XL+), $30 for hoodies, while they last. Here's our current inventory.
---
---