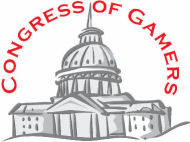 Registration is required for anyone who will participate in the convention, including playing in tournaments or open gaming, Math Trade, buying or selling in the Auction Store, or attending demonstrations. Yes, we'll have people doing periodic badge checks. Badges for pre-registrants will be waiting for them at the convention's registration desk. If you are not fairly sure you will be able to attend, it may make sense to pay a bit more at the door, since refunds only happen when the facility is closed by the City of Rockville. Use the $.01 registration option to help us plan space and food/beverage service, but still pay the FULL registration fee at the door. Pre-registrants will not be able to transfer a badge to a later con, but can let someone else pick up and use a badge they have purchased.
Pre-registration for the 2022 Congress of Gamers Spring Session is open, and is just $20 for the entire weekend, $15 for just Saturday, and $7 for just Sunday. Registration at the door for the entire weekend is $25, $20 for just Saturday, or $10 for just Sunday. Youth (under 16) special rate is $10 for the entire weekend when accompanying a paying adult.
<!input type="hidden" name="on0" value="Register"> Pre-register using PayPal below, or send check made out to Eric Engelmann,
6829 Needwood Road, Derwood, MD 20855. If you are buying multiple badges at once, you will save us about $.30 on each additional badge by sending a single combined payment to info@emsps.com. Inlcude names for badges!