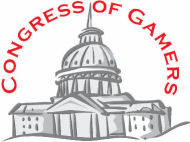 Registration is required for anyone who will participate in the convention, including playing in tournaments or open gaming, buying or selling in the Auction Store, attending demonstrations, etc.
Pre-registration for the Congress of Gamers is closed. Registration, in CASH only, at the door for the entire weekend is $30, $25 for just Saturday, or $10 for just Sunday. Youth (under 16) special rate is $10 for the entire weekend when accompanying a paying adult. You can register at the door starting at 8:30am on Saturday or Sunday.
Bring your own badge holder to the convention if you have one you like!