Department of Commerce
---
The Congress of Gamers exclusive vendor is Merchants of Tabletop Gaming, MerchantsofTabletopGaming.com.
---

This is CoG's eighth consecutive No-Ship Math Trade. A Math Trade is a trade between many people at once, using an algorithm to decide who should give their game to whom. Because of the algorithm used, you will get a game you prefer over what you started with or, at worst, keep your original game. A no-ship math trade is simply a math trade between individuals who are able to deliver their games to each other in person, in this case, at Congress of Gamers. For additional details about Math Trades, go to the Wiki page.
List items you might be willing to trade on this site. Directions and discussion are on https://boardgamegeek.com/article/23541272 All games that successfully trade will be exchanged at the convention.
Anyone involved in the math trade will be responsible for delivering the games that successfully trade to the vendor table before 2 PM on Saturday. We'll sort the games by recipient and have them available for pick-up after 2:15 pm on Saturday. If your games aren't picked up by 5 pm, they will be temporarily moved to the CoG library, at the trader's risk. Forgetful traders can look for them there. Any games still left in the library at the close of the con will be considered abandoned and will be permanently added to the CoG library.
---

We'll be running a super-easy Auction Store where you can sell your own games on Saturday only. All fees go to Congress of Gamers to help offset the costs of convention space rental. Your purchases get you some great games AND support local board gaming.
Buyers:
Bring cash! There's an ATM one mile away, but it's easier to bring enough cash to buy any great deals you see, plus snack bar items. Sales start at 11am, with price drops at 1 and 2. Sales end at 3. Sellers: Bring cash! There's a $.25/$.50 fee per game you enter, payable when you enter it into the B&B, whether or not it sells. All payout must be concluded by 4pm. If you don't pick up your games by 4pm, they WILL be donated to CoG's games library. Game submission may begin as early as 9:30am on Saturday. Complete this form, (under MS-Word Printer Properties, select Finishing tab, then Landscape, rotate 180 degrees, 4 pages per sheet, single sided, for the formatting I like best, screen shot), or use this form to mail-merge with your edited spreadsheet or downloaded BGG collection. Also complete this spreadsheet, with an entry for each item you are selling, leaving lot number blank. We'll merge these into the master sell-list on site from your flash drive. Listing price is $.25 per item/lot. If you haven't entered your lot information into the spreadsheet on a flash drive we can read, and the store volunteers have to create entries for you, the listing price doubles from $.25 to $.50 per item/lot. Besides the listing fee, CoG will collect 10% of the sale, with a $4 maximum. We really need lots of volunteers for the B&B. Volunteers get to sell for free!
Auction Store vendors can also email their submission lists in advance, so I can put them online and let attendees see what will be available at the con in advance. Here's the start, with just the early submissions. Note that if you add a hyperlink to the BGG listing for your game, any armchair shoppers can see in advance what a great deal it is.
Location: Lounge
---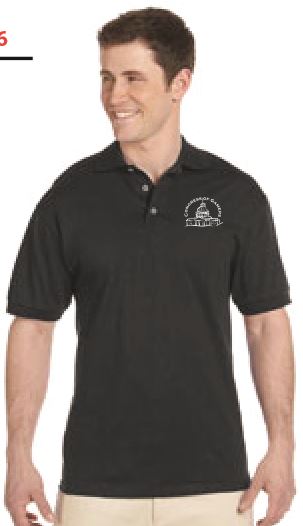 Embroidered polo souvenir shirts will be available at the convention for $15 each ($20 for 2XL+), while they last.
---
Refreshments will be on sale in the Kitchen from 10am-10pm Satuday and 10am-6pm Sunday (vending machines during all hours). Coffee, sodas, water, juice, crackers, chips, pretzels, candy, cookies, hot dogs, etc. will be available. Pizza and salads will be delivered at 1pm and 6pm, Sat and Sun. Pre-order at snack bar.
---